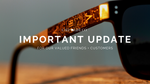 Hello Friends!
As most of you know, Cali Life Co. is a small family business.We started designing Eco-Friendly Polarized Sunglasses in 2015 and sold them at farmer's markets and beer festivals. We quickly grew our business by attending every single event we possible could. For 5 years we did this, and were recognized by both local and international publications for our unique styles.
Once COVID came around, we had no choice but to stay home, stay safe, and start selling online. Unfortunately in order to do that, we had to use Facebook and Instagram Marketing to ensure we could reach our customers. Indeed it's brought us to customers around the world for which we are extremely grateful. 
However, Facebook and Instagram have a dark side that we can simply no longer support. Their contributions to hate, human trafficking, and misinformation while profiting billions has simply struck a cord with us that we can no longer ignore.
Our company has made the moral decision to no longer be advertising on Facebook and Instagram. We started this business to help people, and will continue on our mission to do so. Every Ad you see on those platforms contributes to some of the darkest issues humans face today.
Why are we telling you this? Because we need your help! Here are some easy ways you can support your neighborhood sunglass brand: 
Think of us when choosing your upcoming holiday gifts! Each order is packed gift ready and we offer complimentary exchanges!
If you get a compliment on your shades, tell them where you got them!
Share the Weekend Deal updates with your friends and family! (Everyone loves a great deal!)
Tag us in your Instagram Stories! We will still share all our customers stories as it's not an income generator for the platforms.
If you see a store that we should sell at, send us a message! We will give you a $100 referral fee if it works out!
We want to continue providing High-Quality Eco-Friendly Polarized Sunglasses to our incredible customers! 
Every purchase makes a difference for small businesses like ours. If you've made it this far, don't forget to use code WEB45 for 45% off your next purchase. 
We love you!
Sincerely,
Nina Ruud & Rafael Figueiredo