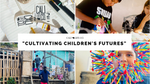 Hey Friends!
This is Nina with Cali Life Co. Did you know that our small family business provides funding and support for local kids in need? We've been doing so since the beginning and wanted to share some updates on our recent projects! 
First, a little history. Cali Life Co. was founded by artists who wanted to make a difference. We decided early on to sponsor youth artists and athletes who needed assistance with supplies and training. Our first youth sponsorships went to young skateboarders and surfers, (check out our About Us page for videos!) We also worked with the local newspaper to publish coloring pages designed from kids' art.
In 2018 we partnered with Sharda Yoga Center: Cultivating Children's Future (www.shardayoga.com) . This 501(c)3 Non-Profit supports children in our local border communities by providing wellness activities, healthy food, art and technology + educational classes. The founder of the non-profit, Nora Munoz, is dedicated to helping kids in need. And so are we.
As a registered non-profit in both the United States and Mexico, Sharda mobilized San Diego volunteers to travel to Tijuana every week to work with the kids. The children came to visit the center in Playas from orphanages and migrant shelters, and truly enjoyed being surrounded by supportive volunteers and fun activities.
Once COVID came, the borders closed to non-essential travel. But Sharda did not close. Nora moved to Playas de Tijuana full time and continues to help the local kids get access to quality education and wellness activities. 
Now that the border is partially open, I have been visiting more frequently to teach art to the kids Sharda serves. Cali Life Co. sponsors the art supplies, healthy bulk food items, money and hygiene supplies. 
Each week we meet with various groups of kids, ranging in age 3-16. The children all live in extreme levels of poverty and often don't have access to learn adequate skills for modern life. Some live just miles south of the border with a view of downtown San Diego in the distance.
Cali Life Co.'s assistance with Sharda in recent years has made a huge impact on the lives of these kids. We believe all children deserve a bright and healthy future. Sharda's next project: Purchasing land in Baja to build an organic garden and educational center.
As a Board Member for Sharda Yoga Center and as a Founder of Cali Life Co., I am truly honored to be making a difference in the lives of the children we serve. 
If you have a little extra and would like to donate directly to Sharda securely via PayPal (remember, it's tax deductible!) please visit their website www.shardayogacenter.com! If you are interested in volunteering or donating supplies, please email me at nina@calilifeco.com. 😎
Thank you to all our customers for your support, so that we can continue on the mission to making the world a better place!
Pictured: Nina Ruud + Bill 10/16/21
nina@calilifeco.com
Follow my adventures on Instagram @neenruud!