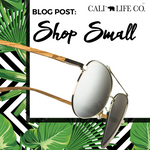 With the holidays on approach, and most travel plans cancelled, it's more important than ever to connect with friends and family. When choosing your holiday gifts this year, we ask that you consider supporting small businesses like ours to show your appreciation for the ones you love. 
To compete with bigger brands and Amazon, we are offering our valued customers 50% off all sunglasses this holiday season. Whether you are shopping for yourself, your loved one, a friend or co-worker, we have something for you! With fast fulfillment, free exchanges and high quality products, we put our heart into every order and ship it with love and eco-friendly packaging:)
Green America Blog:
10 Reasons Not to Shop Amazon Prime
Cali Life Co. is a small family business based in San Diego, California. Prior to COVID-19, we sold primarily at Farmer's Markets and Beer Festivals. Since the pandemic, we've had to pivot to being primarily online. We miss connecting with customers face to face, but want you to know we are still operating with the same dedication to offering unique, eco-friendly products people love!
From our family to yours, we are all in this together!
Sincerely,
Nina Ruud and Rafael Figueiredo
Founders