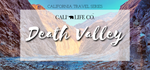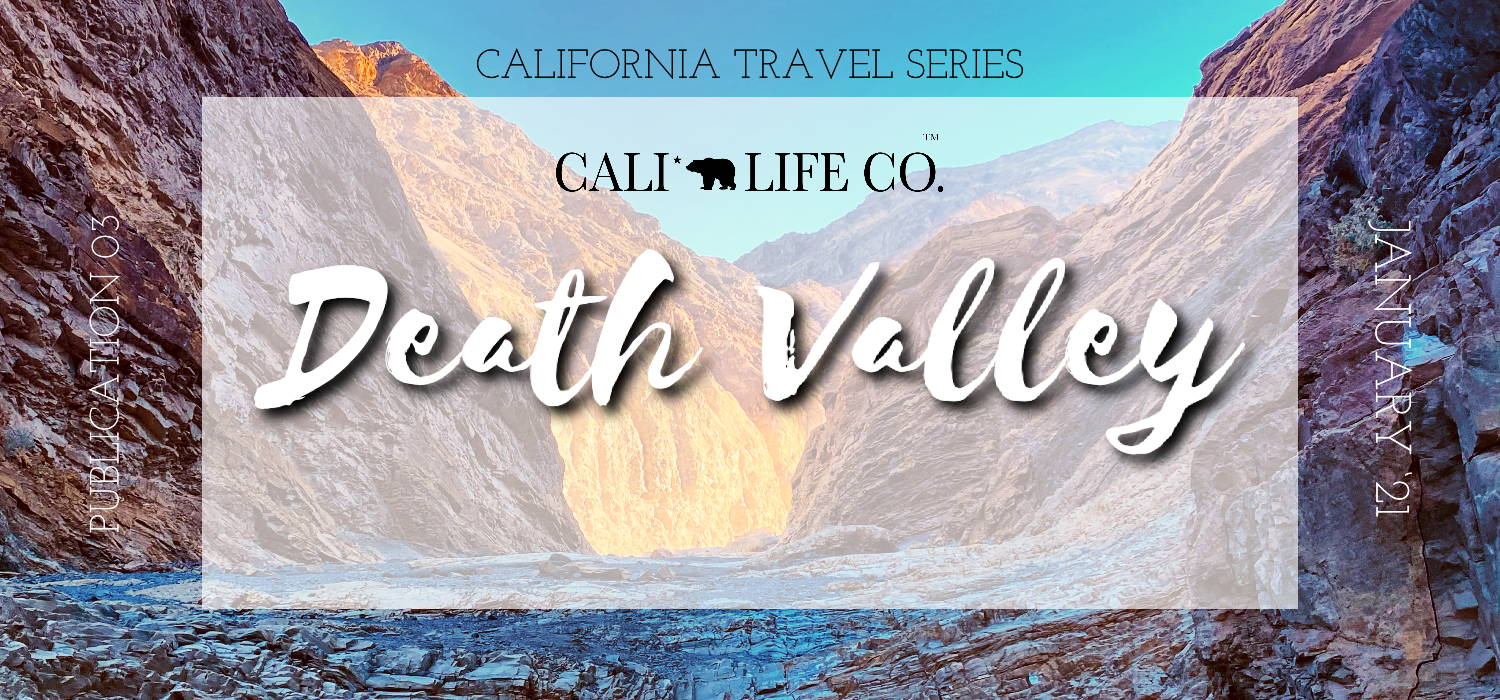 Death Valley, California | The Hottest Place on Earth. Mosaic Canyon, Joshua Tree, Badwater Basin, Zabriskie Point
Photo Credit (Starting from Top): Nina Ruud, Julien Cavandol, Nina Ruud

Virtual Travel Series:
Take Me to Death Valley
By: Nina Ruud, San Diego, CA
With most of our country being under lock down from COVID-19, we decided it was time for a Virtual Travel Series! California is home to millions of magical wonders, and we are here to show you them from the comforts of your home! Disclaimer: We do not recommend travel at this time, however save these articles for inspiration for when the time is right to do so!
Death Valley: The Hottest Place on Earth
Death Valley is expansive. It's vastness is incomparable even when you are standing in it... the horizon challenges your perspective with its sheer distance. Ancient craters, sultry sand dunes and slot canyons await you, adventure around every turn.
The number one trick to enjoying Death Valley: Go in the winter. It is literally the hottest place on earth, having registered 134 degrees on July 10th, 1913. The ground temperature can reach up to 200 degrees, so I mean it... Go in the winter!
They say people visit National Parks to get away from people... They also say people visit Death Valley to get away from the National Parks. Even in the peak visitor season it's a far cry from the packed viewpoints at the Grand Canyon and Yosemite. It comes with a silence that heals all the noise, takes you away from the chaos. A type of quiet where you can hear your own breath, and enjoy the sounds of your loved ones you share it with.
A Well-Planned trip to Death Valley is Essential.
You must have plenty of water, you must have plenty of food. And if you plan on going off the beaten trail, you must have detailed maps that can guide you in and out of the vast and ever changing landscape that makes up the 3.4 million acres that is Death Valley National Park. One rain shower can wash out a trail, one small earthquake can rattle an avalanche of scree.
Sticking to the main attractions is highly recommended as they can each be breathtaking. My dad called one area "Fremont Street" because there were so many different sites to see in one place. Some destinations can take hours to get to, and most provide various hiking options depending on what you are looking for. Just being here is an adventure, choosing 3-5 main attractions for a day or two and you will be graced with everlasting memories.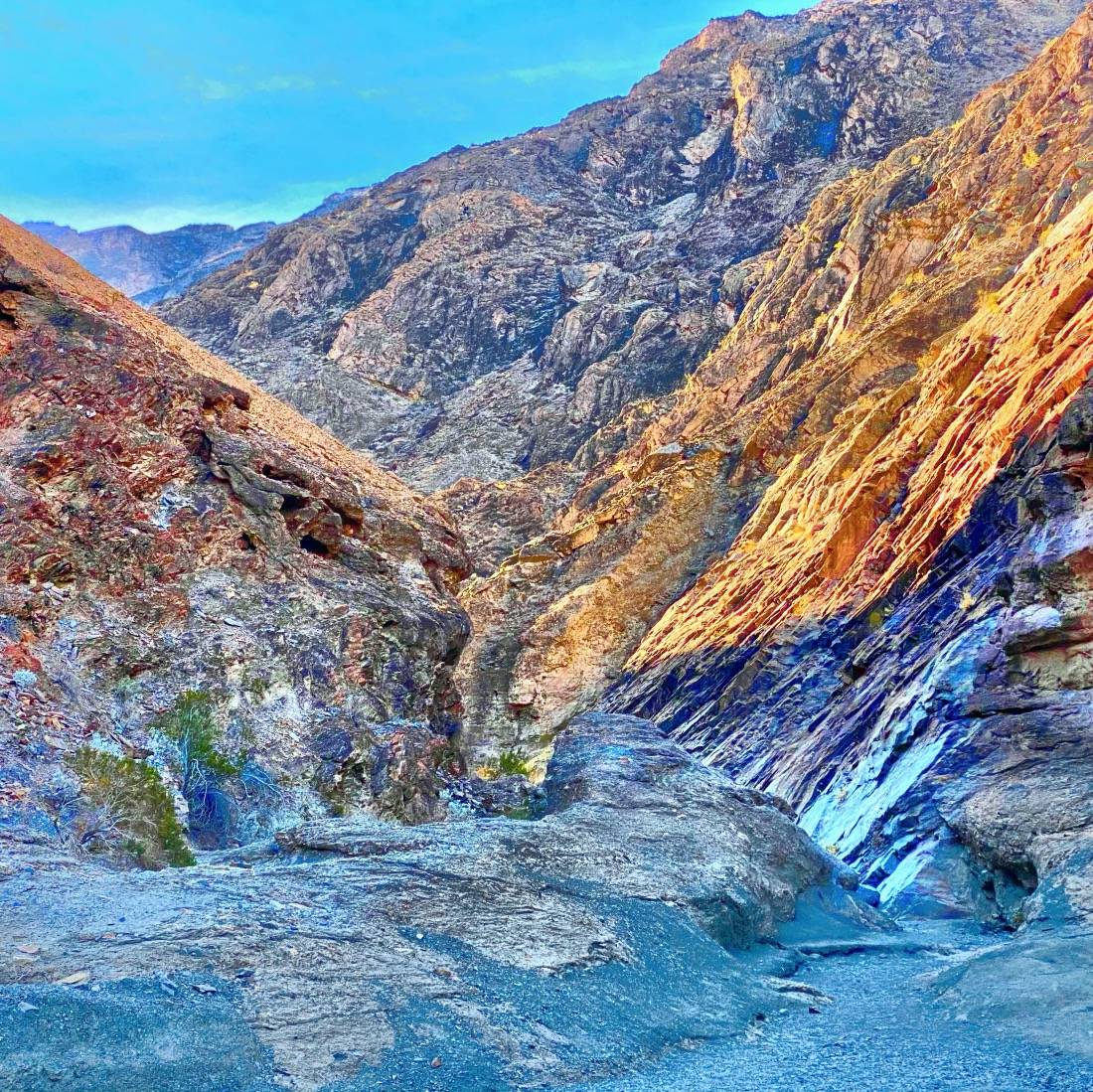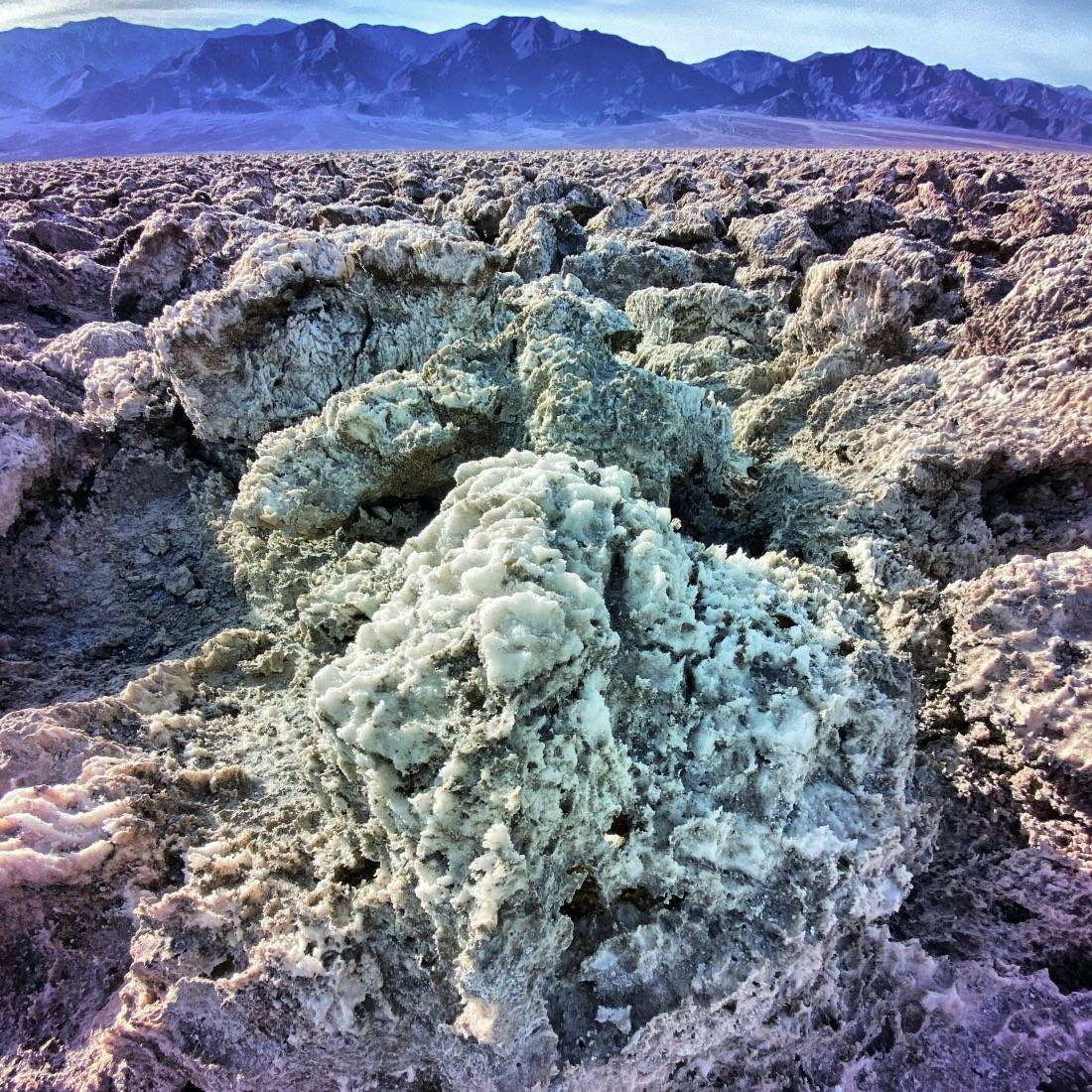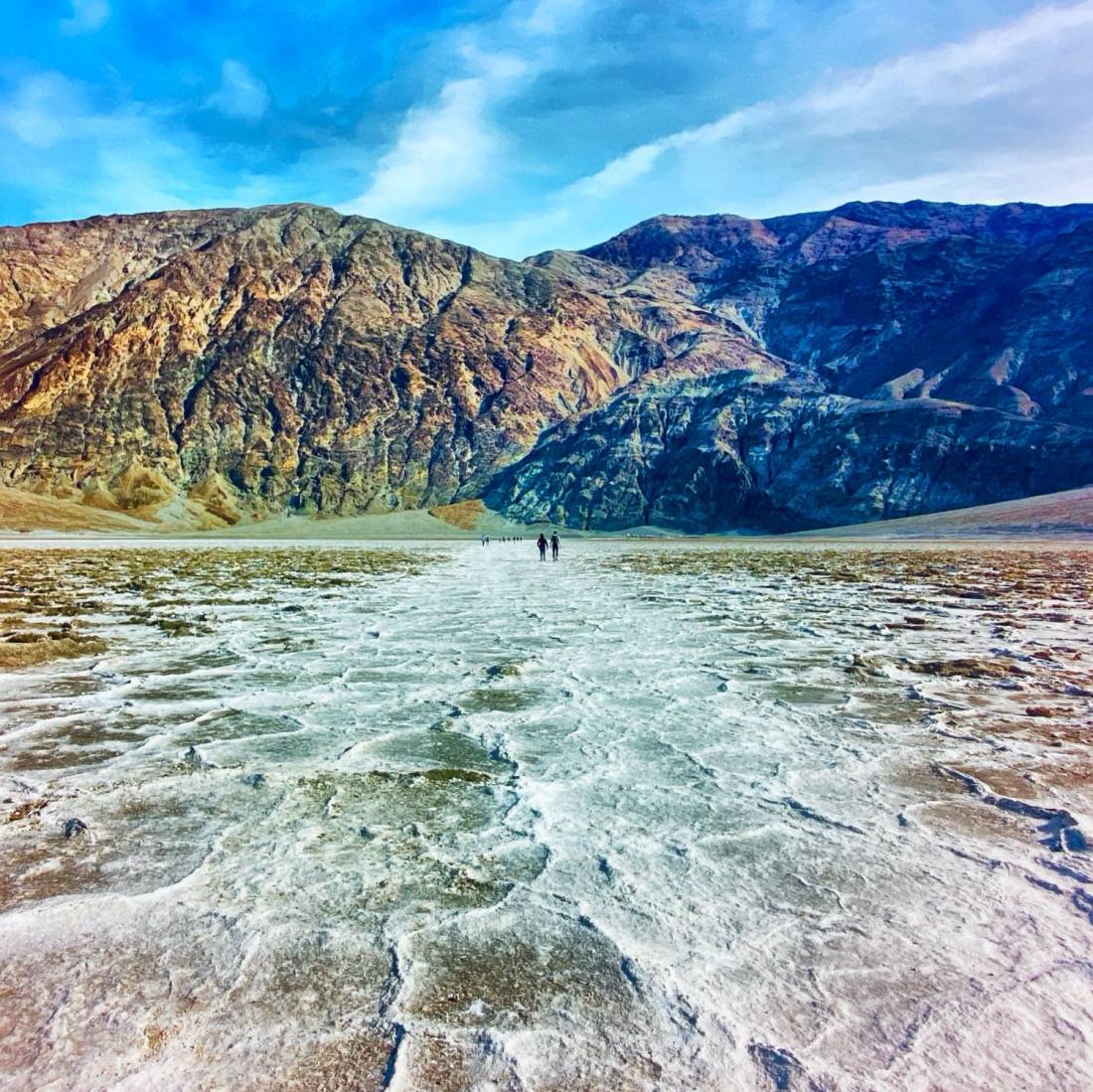 Mosaic Canyon, Devils Golf Course, Badwater Basin
Photo Credit: Nina Ruud
Size
Death Valley is the largest National Park in the Continental United States. Second in size only to Denali National Park, its 3.4 million acres have been explored by brave, daring and foolish souls for thousands of years. Its twice the size of the state of Delaware, and is located mostly in Eastern California with parts in Western Nevada. Surrounded by both modern and historical ghost towns, the region is often referred to the Sahara Desert of the United States.
Due to nearly inoperable access to fresh drinking water or proximity to a major metropolitan hub, Death Valley has certainly had its challenges in creating a long lasting civilization beyond a few country stores and campgrounds. Do not underestimate how far you can be from any modern conveniences!
The Attractions
When referring to "Attractions" I don't exactly mean rollercoasters and arcade games. The attractions you'll find at Death Valley are more like rocky wonderlands, garbled landscapes and interesting history. Death Valley's unique circumstances that built it's wonders are like nothing else on earth, and is worth your time and adventures!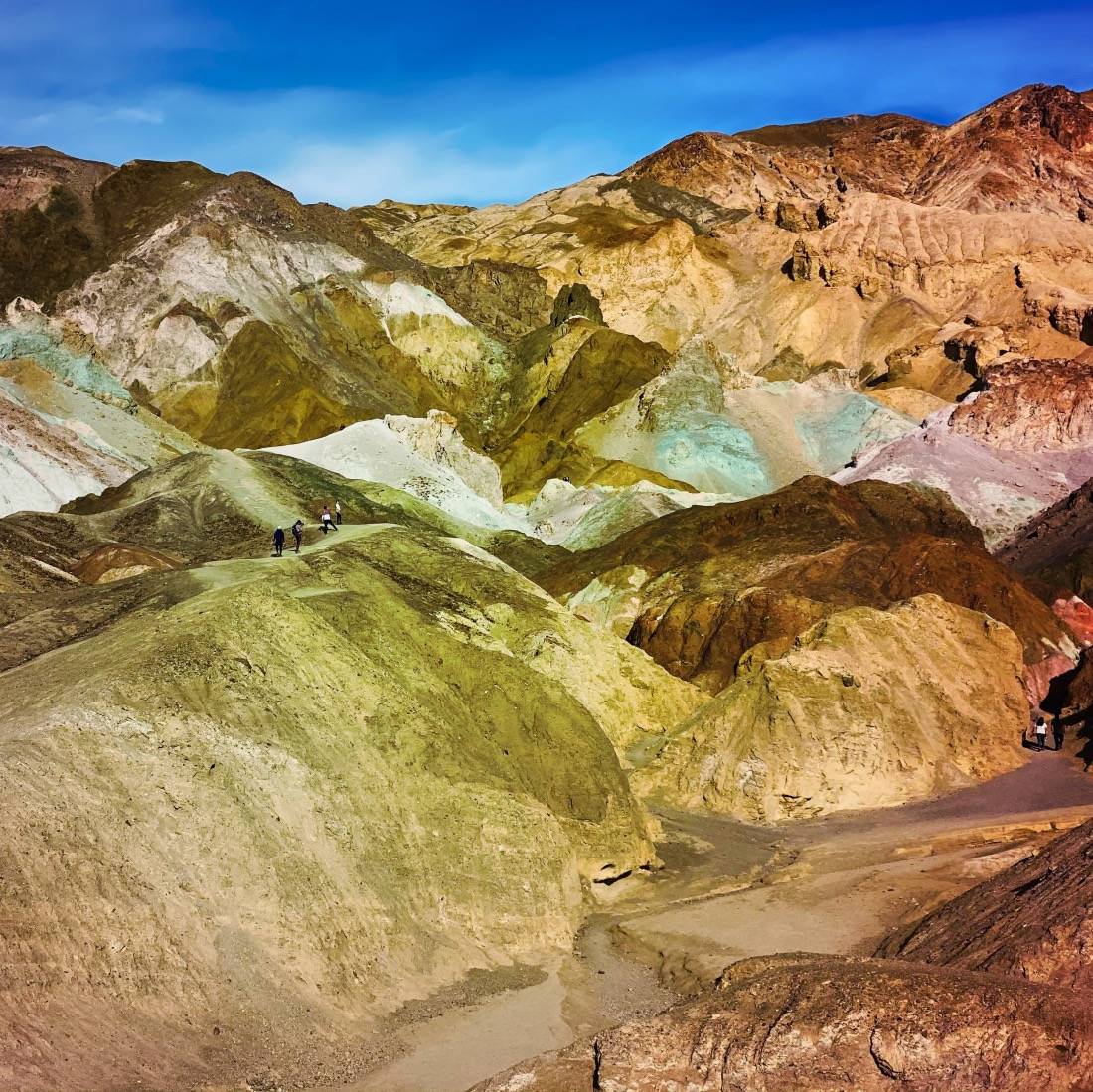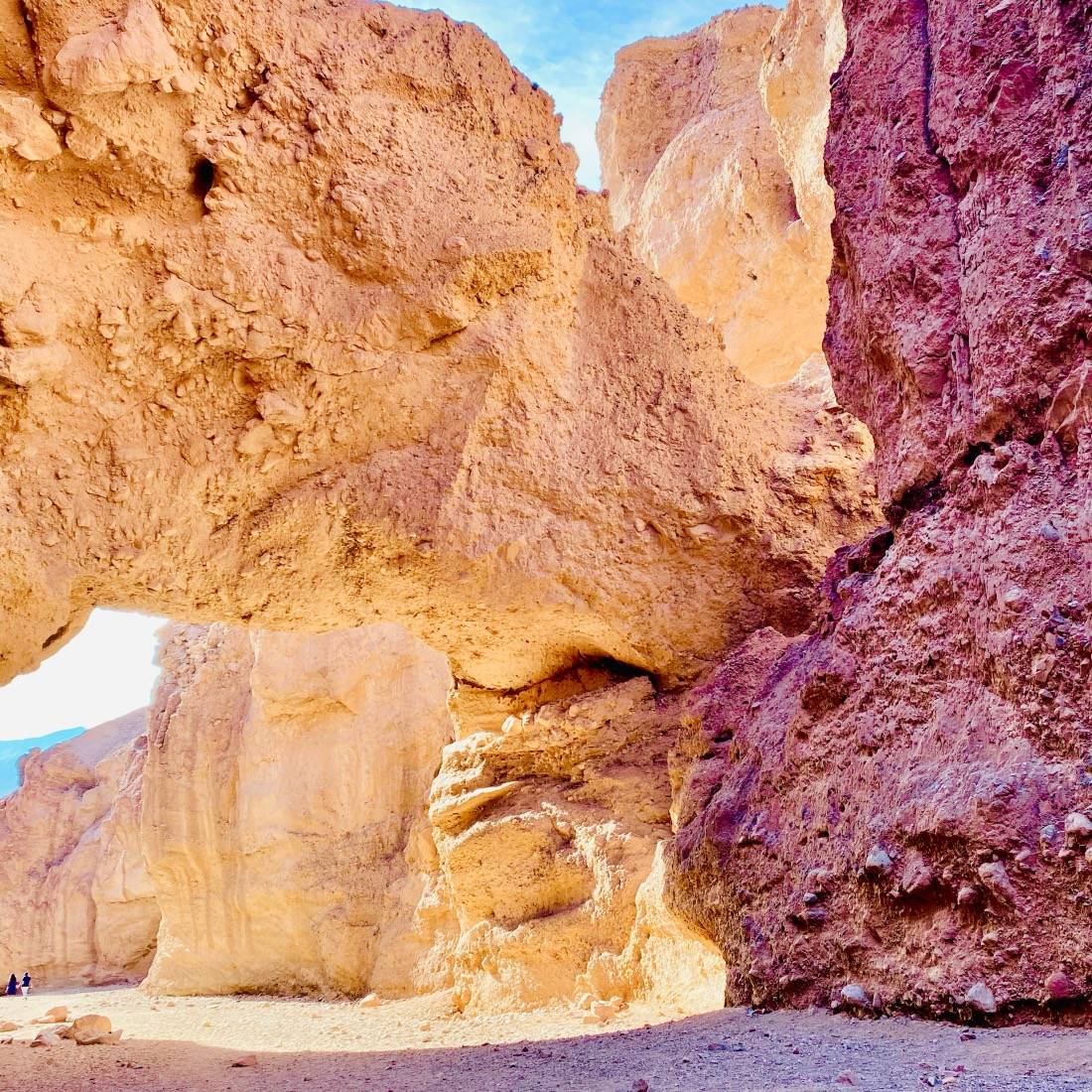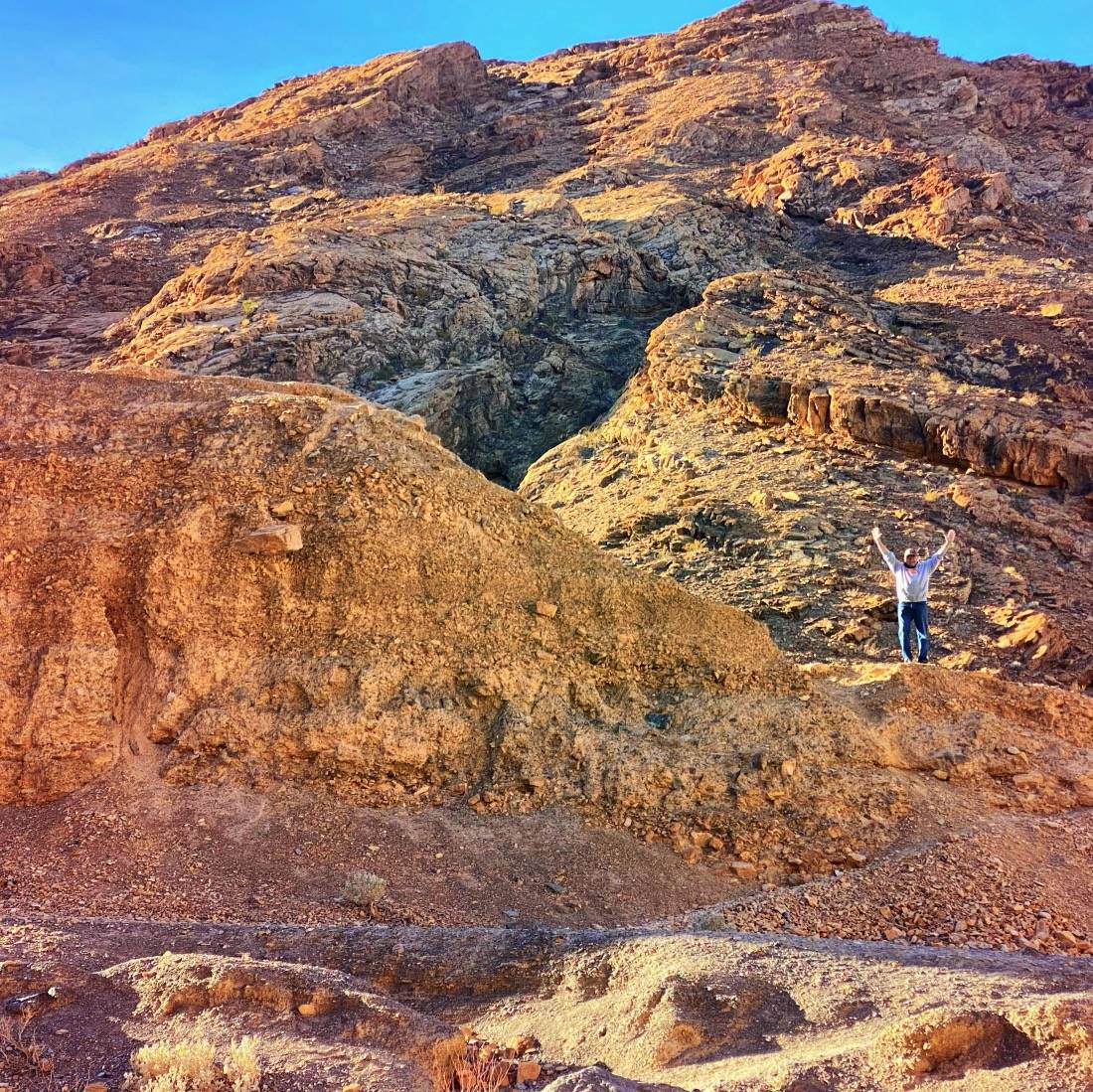 Artists' Palette, Natural Bridge, Mosaic Canyon
Photo Credit: Nina Ruud
"The western horizon is dominated by the rugged peaks of the Sierra Nevada range, including Mount Whitney, the highest point in the contiguous United States at 14,505 ft. Immediately to the east lies the lowest point, Badwater Basin at -282 ft. It's a very curious sensation to see the two extremes from one vantage point."
-Roger Naylor, Death Valley: Hottest Place on Earth
Mosaic Canyon
A stroll through the colorful slot canyon known as Mosaic Canyon was recommended to me by a local at the Panamint Springs store. He said it was his favorite hike and it didn't take long to see why.
Mosaic Canyon Trailhead is located across Highway 190 from the Mesquite Sand Dunes. There's a 2 mile dirt road heading south to a parking lot. I went in the morning which was perfect as it was cool and the sun created very distinct and dramatic highlights on the walls of the canyons. This is not the most difficult hike in the park, but it can get challenging scrambling up large boulders as you move deeper into the canyon.
Devil's Golf Course
Most Golf Courses I've been to feature acres of freshly watered greens and a clubhouse with a variety of cold beers and sandwich options. The Devil's Golf Course is no such thing. It's an otherworldly terrain, a texture you imagine being draped around a baron moon. Tread carefully, you are allowed to walk anywhere but it's highly recommended to stay close to the parking lot and wear sturdy shoes. The salt floor is so rugged, a simple fall could result in a broken bone.
Artist's Palette
Take the Artist's Drive for a twisting turning one-way road through brightly mineral colored mountains. Both easy and slightly-challenging trails can be found here, winding you through a unique mosaic of colors depending on what time of day you arrive. I highly recommend the late afternoon as the suns rays enhance the colors and give it an almost Dr. Seuss sort of experience!
Badwater Basin
Come and stand at the lowest point in North America! At 282 feet below sea level, the ground is 95% pure table salt covering around 200 square miles. If it's your first time, you are guaranteed to find something you have never seen or experienced before!
Zabriskie Point
Walking up to the paved path to view Zabriskie Point, my eyes filled up with tears. It was sunset, and the view I was about to indulge in was completely unexpected. I literally could not believe my own eyes. Sunsets at Zabriskie are a must see if you visit Death Valley. The reflection of the sun before it sets behind the Panamint Mountains blatantly reflects the Red Cathedrals and Golden Canyons that make up Zabriskie.
Mesquite Flat San Dunes
Who doesn't love Sand Dunes? Especially in winter! Mesquite Flat Sand Dunes are surrounded by incredible mountain views and endless rolling dunes. Watch out for Sidewinder snakes, they burrow below the sand for coolness and hunt for rodents that do the same!
Conclusion
Ubehebe Crater, Fall Canyon and Racetrack aside, there are dozens if not hundreds of sights to see in Death Valley. Its magic is clear when you enter the park, its landscape dramatic as an opera. With the right planning and the right company, you will not be disappointed in all there is to see!
One Last Recommendation:
If camping isn't your thing, I recommend staying at the
Longstreet Hotel
in Amargosa Valley, Nevada. Located outside of the park, east of Zabriskie Point about 45 minutes driving. Although there are other hotel options, I found this place to be extremely charming and affordable. Plus you can load up on gas, basic groceries, and enjoy great conversation from the friendly locals and staff. Boy do they have some stories to tell!
Lockdown
At the time of writing this, Death Valley is a part of the state-wide lockdown, so we do discourage travel here at this time. But please save this article when it is safe to travel again.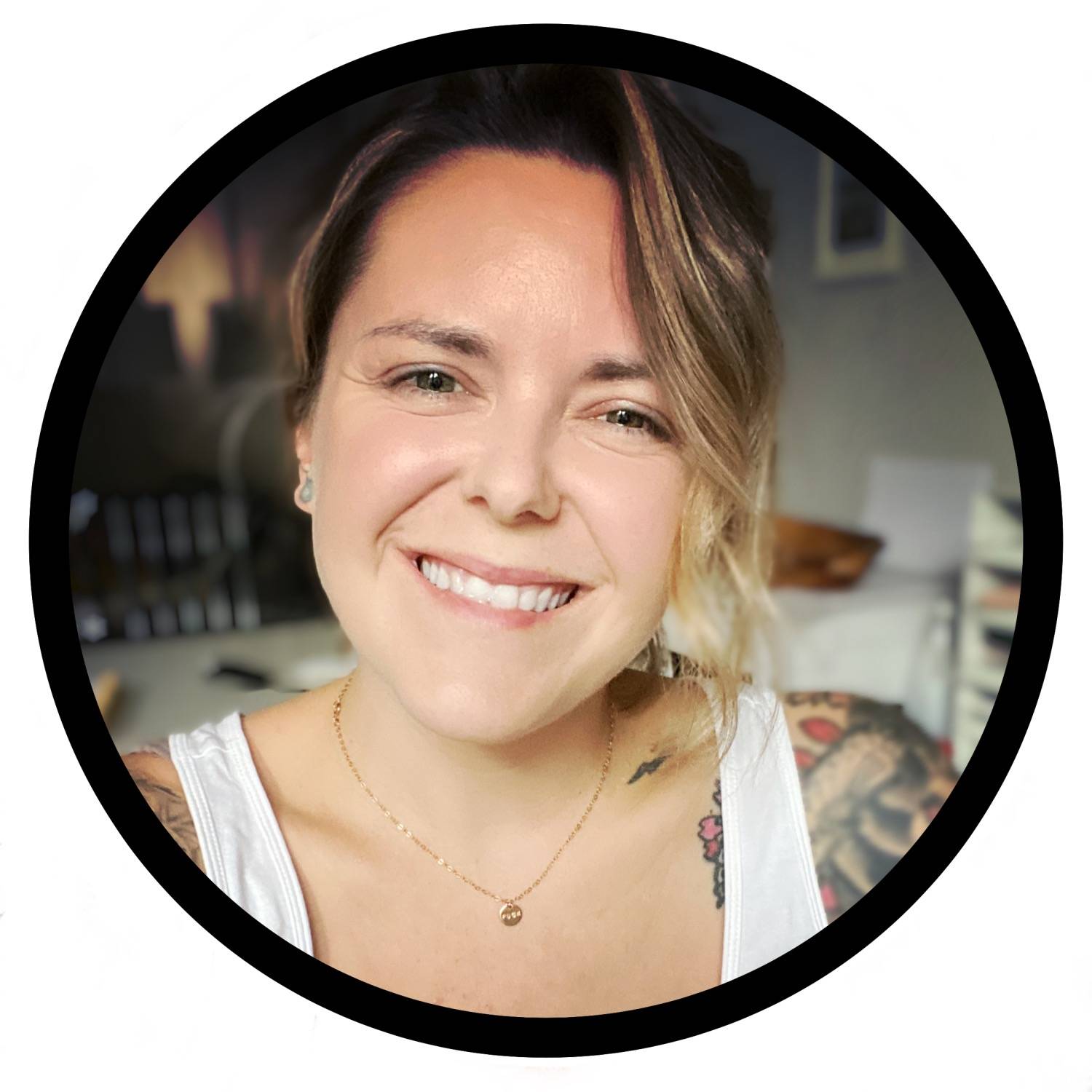 Always choosing the scenic route, Nina is an artist, adventurer and humanitarian. She's worked with underserved children in Mexico and the Philippines as a Certified Pediatric Massage Therapist. She is also an Entrepreneur, joining her husband Rafael in 2015 to build Cali Life Co., together designing and selling sunglasses by the seashore in San Diego.